Dental Implants – Lancaster, PA
A Second Chance For a Permanent Smile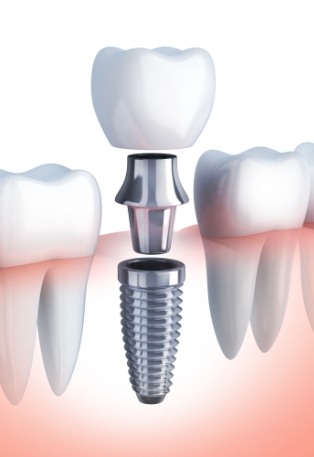 At Dentistry for Life, we believe in providing advanced dental services to our dentistry patients suffering from tooth loss. No matter the number of teeth that are missing, dental implants are a stronger and more natural way to rebuild and restore your smile and ability to eat and speak with greater ease. With the help of dental implants from our Lancaster, PA dentist, not only do we replace the visible crown/tooth, but also the root. An added benefit of dental implants is bone stabilization, preventing additional jaw bone loss. Call our dental team today to schedule an exam to determine your candidacy for dental implants.
Why Choose Dentistry for Life for Dental Implants?
In-House Dental Implant Placement & Restoration
CT/Cone Beam Scanner for Accurate Treatment Planning
No-Mess Digital Impression System
What are Dental Implants?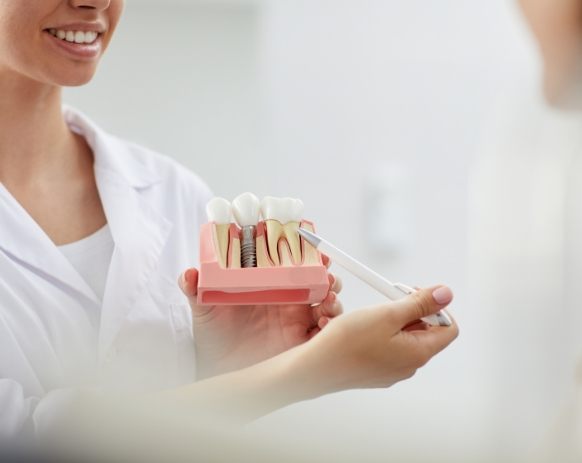 Dental implants are considered a superior form of tooth replacement because they consist of titanium, screw-like posts that fuse with the jawbone to create a solid foundation for new teeth. Mimicking the natural root-to-crown structure, they remain firmly in place and can last 30+ years or longer with optimal maintenance. Not to mention, they look and feel natural, making them the preferred choice for millions of Americans who once suffered from tooth loss.
Dental Implants in Conjunction with Dentures or Partial Dentures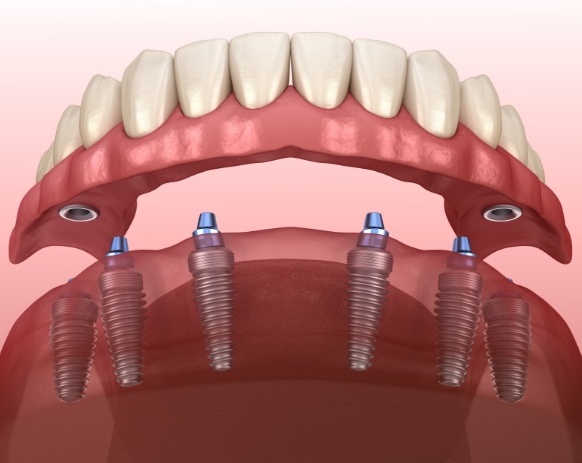 Some patients find they can function better with a denture or partial denture when there are dental implants under their existing denture to help secure their denture and give them greater confidence when eating and speaking. This allows many of our patients to return to a more normal lifestyle free from a limited diet and awkward social encounters.
The 4-Step Dental Implant Process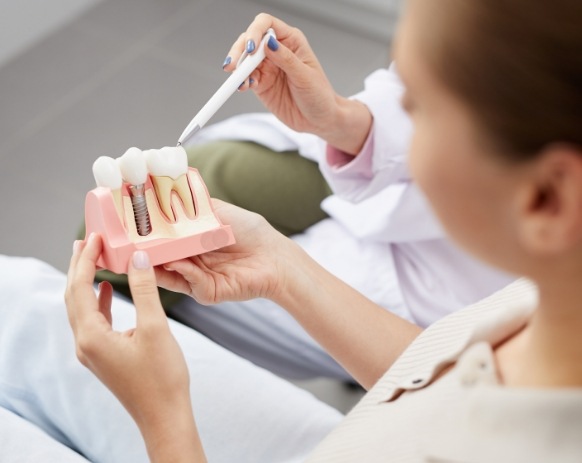 We are pleased to provide the complete dental implant placement and restoration process in-house so that our patients do not have to travel to another specialist for assistance. To ensure optimal results, we follow the same four-step process:
Initial Dental Implant Consultation – You will meet Dr. Herres to discuss your tooth loss as well as your candidacy for treatment. If any preliminary care is required, it would be discussed at this appointment.
Dental Implant Surgery – Dr. Herres is a Fellow in the American Academy of Implant Dentistry, as well as a lead faculty member at the Implanting Mentors training facility in upstate New York, and this makes him more than qualified to provide our patients with superior care in all phases of implant placement in our dental office allowing patients to remain in one location throughout the dental implant process.
Dental Implant Osseointegration – Over 3-6 months, the implant will fuse into the jawbone to create a solid foundation for your future abutment and restoration
Delivery of Dental Implant Restoration(s) – Your customized crown, bridge, or denture will be fabricated and secured into place.
Benefits of Dental Implants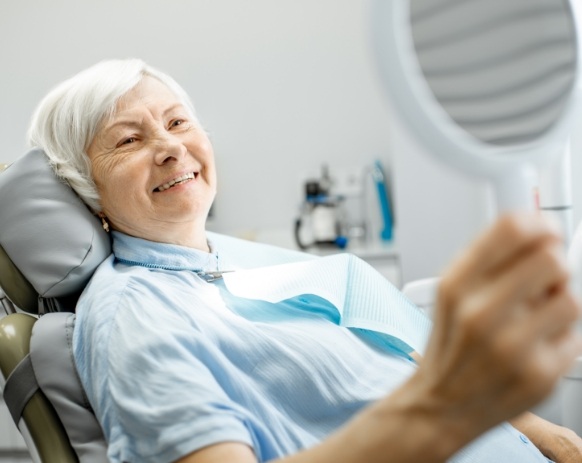 Dental implants offer unique benefits that cannot be achieved with other tooth replacement solutions (i.e., dental bridges, dentures). Some of these include:
Greater jawbone stimulation because of how implants work when you bite down or chew. This, in turn, allows for the prevention of facial sagging or collapse.
Improved appearance by helping you look and feel younger.
Lowered risk of systemic issues commonly caused by tooth loss such as osteoporosis, diabetes, and heart disease.
Greater bite force and chewing power that allows you to eat nutrient-rich foods that are good for your smile and body.
Prosthetics that are capable of lasting 30 years or more with proper care.
Who Dental Implants Can Help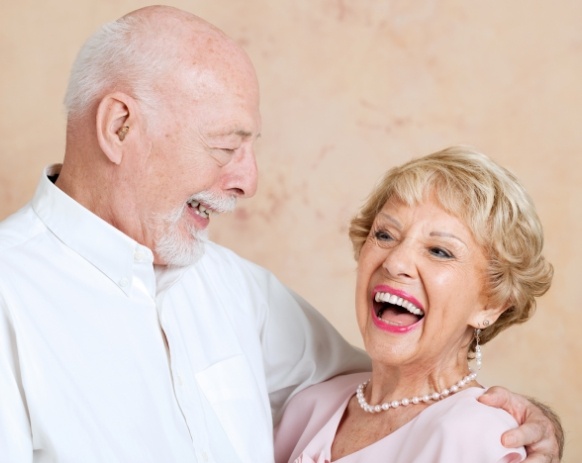 Most adults who face tooth loss are capable of receiving dental implants. The differentiator between those who are given the green light immediately versus those who are not is whether preliminary treatments are needed. For those who require bone grafting, periodontal therapy, or even tooth extraction, the hope of dental implants remains a possibility, no matter how many teeth are missing.
Missing One Tooth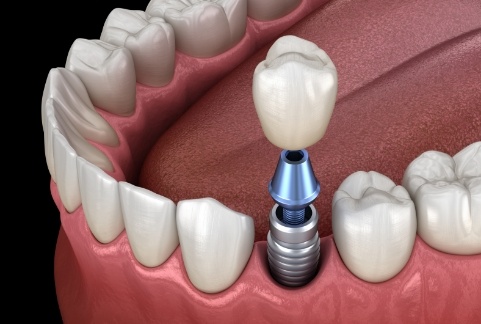 Replacing a single tooth only requires one dental implant, one custom abutment, and an implant crown. This will make eating and speaking much easier, and it will allow you to feel more confident in your appearance.
Missing Multiple Teeth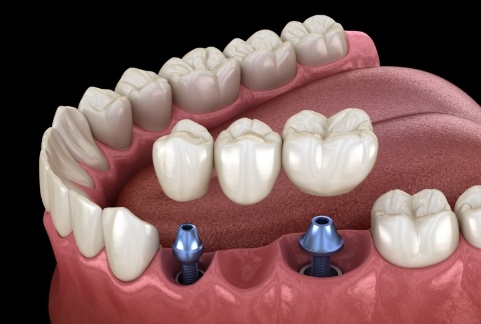 If multiple missing teeth need to be replaced, we can place multiple dental implants and fabricate an implant bridge or a fixed or removable partial denture.
Missing All of Your Teeth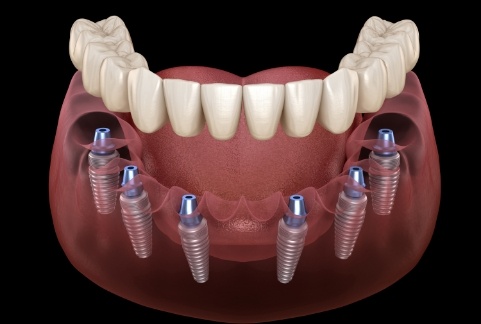 An entire arch of missing teeth can now be replaced using implant retained dentures. Using between four and six implants, implant retained dentures allow for a customized prosthetic with attachments that snap onto attachments on the implants, giving you greater stability than that of a traditional denture.
Understanding the Cost of Dental Implants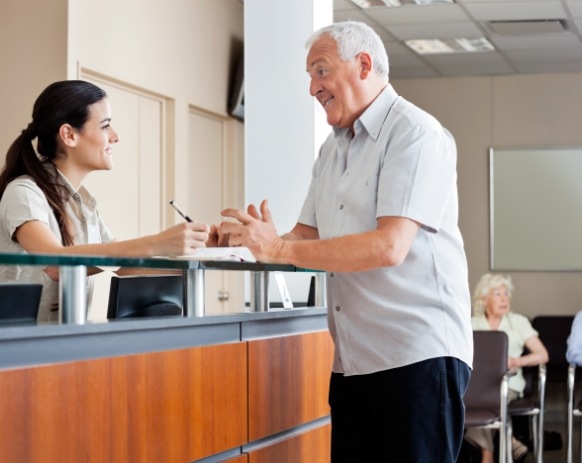 When considering dental implants, you'll likely begin to wonder if they're a worthwhile investment. Because no two cases are alike, the cost of dental implants can vary. This is why we look at each case individually, and draft a treatment plan that is best for each patient. We will sit down with you and review our recommendations and allow plenty of time for your questions or concerns.